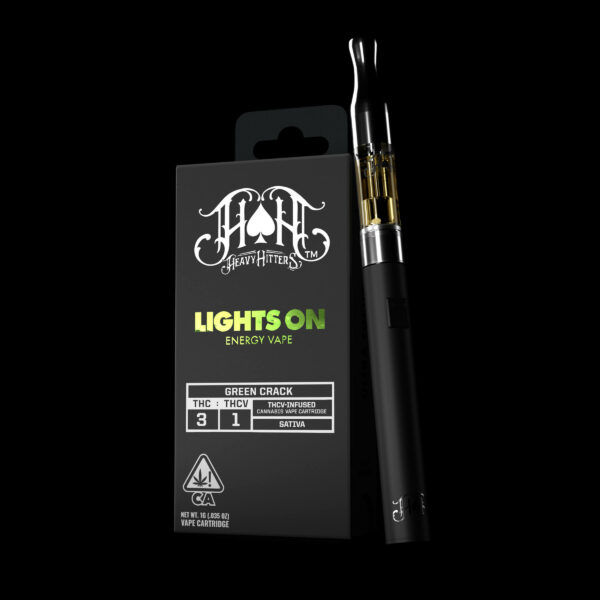 Hyped and high, minus the munchies. Lights On THCV Energy vapes provide an alert, focused high designed for those who need to be on top of their game. This blend consists of a classic super sativa: Green Crack, infused with a 3:1 ratio of energizing THCV. Perfect for active smokers, THCV may produce a less hungry high than THC alone.
Energetic, Focused, Uplifting
Myrcene, Caryophyllene, Pinene
FREQUENTLY
ASKED
QUESTIONS
THCV is a minor cannabinoid that forms naturally in the cannabis plant. It is most commonly found in sativa-dominant strains. This rare cannabinoid is associated with an energetic and focused high, with less munchies.
WHAT POSSIBLE BENEFITS DOES THCV HAVE?
No munchies! THCV may produce a less hungry cannabis experience than THC alone. The cannabinoid may increase focus and alertness, and is perfect for active, productive cannabis lovers. THCV works in tandem with THC to create a more focused, energetic experience without the edge.
WHY AREN'T THERE MORE THCV PRODUCTS IN THE MARKET?
THCV is a scarce rare cannabinoid. Because it is hard to come by, there aren't many products in the market that contain it.
WHAT TYPE OF SOURCE MATERIAL DO YOU USE?
Heavy Hitters uses premium indoor cannabis for our extracts, only accepting the top one percent of source material from California's premier indoor farmers.
WHAT IS THE PROCESS TO MAKE ULTRA OIL?
Extraction is art and science. It takes a master distiller to ensure we extract clean, pure Delta-9 THC without burning or oxidizing the concentrate. The goal is to remove the fats, waxes, chlorophyll and unwanted terpenes, while delivering the perfect taste. Our experienced team completes six different quality checks on every cartridge. The result is the most pure and potent oil on earth; clear, smooth and consistently effective.
WHAT SAFETY TESTING DO YOU ON YOUR EXTRACTS?
Heavy Hitters adheres to rigorous testing standards for all of our cannabis products. We test for heavy metals, pesticides, plant residue and unwanted contaminants. This strict process ensures a safe, clean cannabis extract.