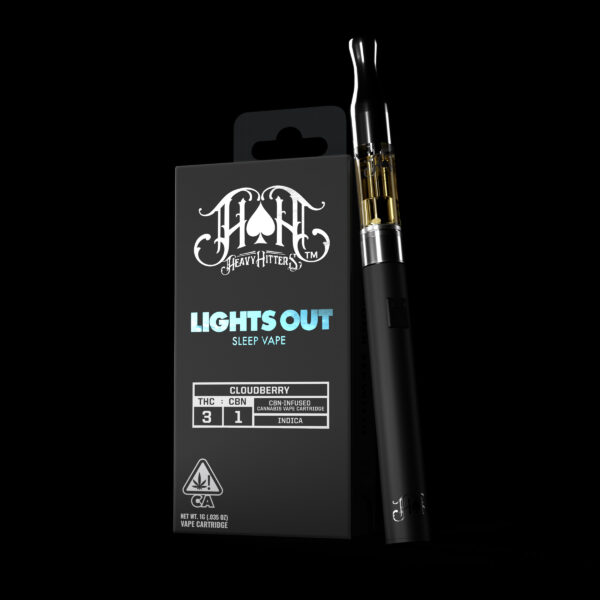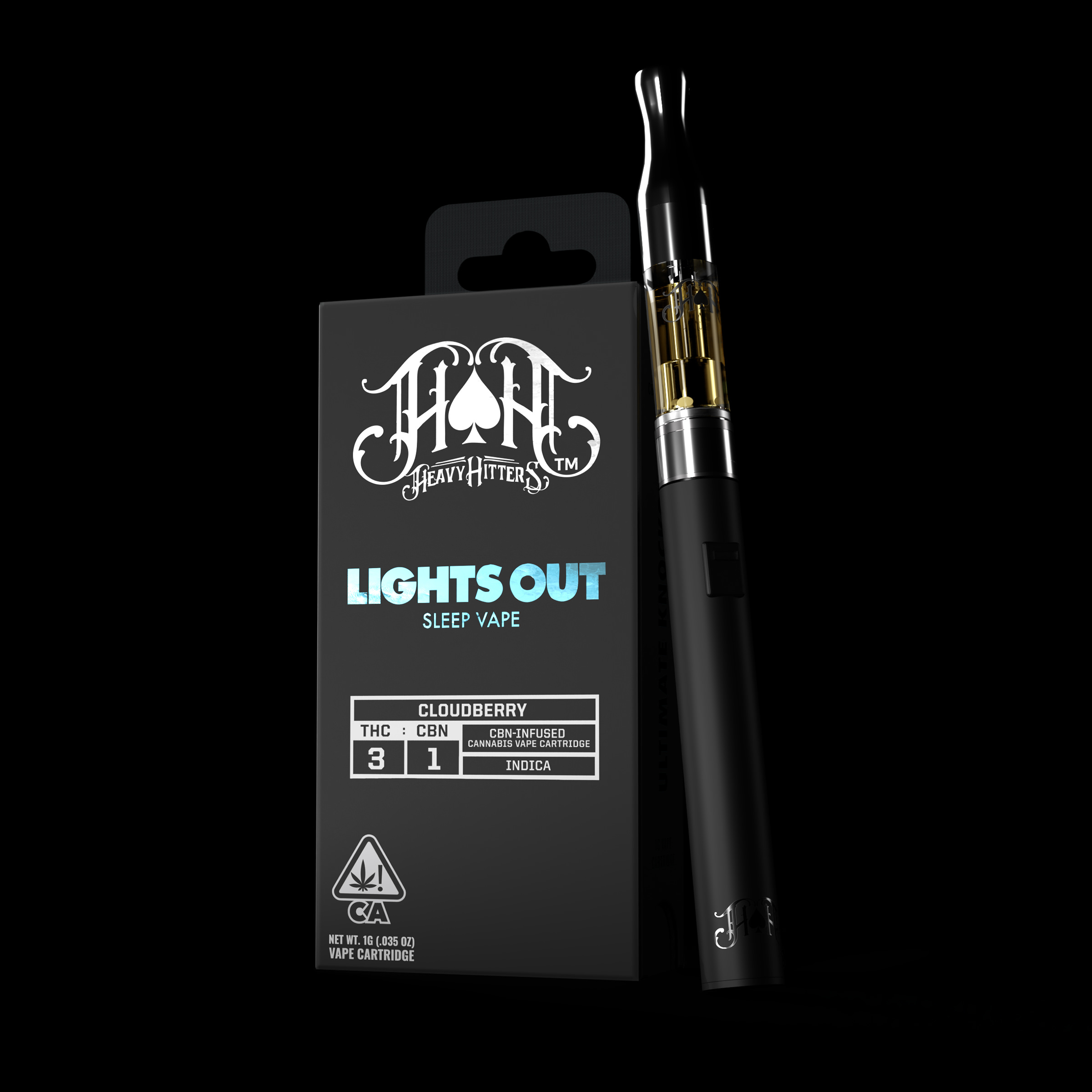 The ultimate knockout. Providing full-body relaxation and mental calmness, Lights Out CBN Sleep vapes put you down fast and stay asleep throughout the night. This blend consists of Heavy Hitters' most popular indica: Cloudberry, infused with a 3:1 ratio of sleep-inducing CBN, ensuring a quick-hitting way for a better night's rest.
CBN, a rare cannabinoid created when THC is exposed to oxygen and light, is famous for its sedative properties. When paired with THC, CBN may provide a better night's rest.
Euphoric, Relaxed, Sleepy
FREQUENTLY
ASKED
QUESTIONS
WHAT IS CBN AND HOW IT IS MADE?
Cannabinol (CBN) is a promising minor cannabinoid created when THC is aged in oxygen and light.
WHAT POSSIBLE BENEFITS DOES CBN HAVE?
CBN combined with THC may create more powerful sedation effects than THC alone, offering users a better night's sleep and well rested mornings.
WHAT TYPE OF SOURCE MATERIAL DO YOU USE?
Heavy Hitters uses the same premium indoor cannabis found in our Diamond Pre-Rolls for our extracts, only accepting the top one percent of source material from California's premier farmers.
WHAT IS THE PROCESS TO MAKE ULTRA OIL?
Extraction is art and science. It takes a master distiller to ensure we extract clean, pure Delta-9 THC without burning or oxidizing the concentrate. The goal is to remove the fats, waxes, chlorophyll and unwanted terpenes, while delivering the perfect taste. Our experienced team completes six different quality checks on every cartridge. The result is the most pure and potent oil on earth; clear, smooth and consistently effective.
WHAT SAFETY TESTING DO YOU ON YOUR EXTRACTS?
Heavy Hitters adheres to rigorous testing standards for all of our cannabis products. We test for heavy metals, pesticides, plant residue and unwanted contaminants. This strict process ensures a safe, clean cannabis extract.
WHAT ARE THE RECOMMENDED VAPE SETTINGS?
For the ideal vaping experience please use: Low (2.0V) Medium (2.5V) on a HH variable temp battery. (2.0V) (2.5V)